The title for this post speaks to the idea of Conservation. This notion is starting to become understood as efforts in preserving an item for posterity, in whatever condition it is in, without taking any existing part of the original away. Those with an opinion on the matter would agree that reducing intrusion, reusing technique and recycling any original material (such as loose finish chips) would put you on the right track. Lately, I've been finding out just what sort of high pains are taken by those who
conserve .
The past couple of weeks have been fantastic. The days at school have gotten a little shorter and the sun stays up a little longer. We have moved past "the heart and soul of the program" aka Advanced Finishing II. Our muse is now Antiques and Conservation which brings a multifaceted challenge to our critical thinking and technical skills.
This class supposes that the item we are considering is of some special value to either the scholar or the collector. In this situation, an object transcends its intended purpose. From that point on, every moment that passes in the presence of the object or any contact therewith must be considered for possible detriment to the object. In order to put a face on the name
Conservation
, we took a field trip to the Minnesota Historical Society. Before heading out on this trip though, we needed an introduction to a couple of the tools of the Conservator; French polishing and solvent testing.
Yep. It comes in a can. Easy!
French polishing is a method used to apply an evaporative finish to an object. The process requires only the simplest of tools and done well, delivers a coating of exceeding beauty. It is said that there as many ways to French polish as there are people French polishing. I like that. We used garnet shellac and the classic tool, the
tampon
, to coat a piece of Cherry veneer plywood. Learning this technique is perhaps my most gratifying moment spent at DCTC thus far. I don't need no stinking spray booth! After a few days of familiarization with the process of solvent testing, which clues us in on how to proceed with conservation, we were ready to see what our some of our professional colleagues were up to.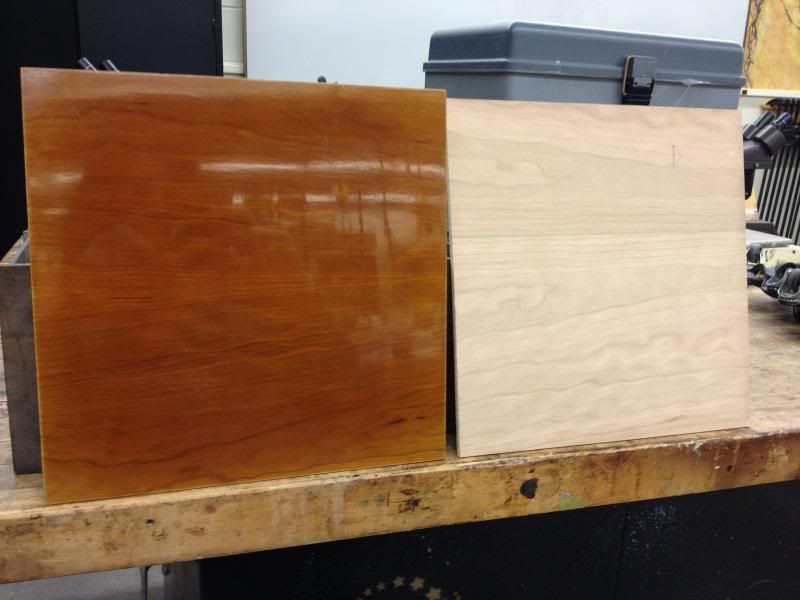 This is what the finished product looks like. Pictured is an uncoated Cherry board and it's cousin, all dressed up and nowhere to go. We used Garnet shellac, some cloth, a tiny bit of mineral oil and a dram of ethanol. Have gun, will travel.
We were received on the ground floor of the Minnesoat Historical Society by Tom, an objects conservator at the museum. We all piled into an elevator car and quickly plunged down into a secure area. Turns out that this was just the entrance into the Very Secure Area. Moments later, we found ourselves in a subterranean warehouse. Have you ever seen
Raiders of the Lost Ark
? We stood below rows and rows of Important Stuff, neatly shelved and tagged like cadavers. Only about one percent of these items would ever be displayed in the galleries. Necks strained and craned as we tried to glimpse the treasures in this room. After introducing us to Minnesota's first female cabinetmaker (from 100 years ago) and fielding a few questions, Tom lead us out of the catacombs towards his brightly lit lab.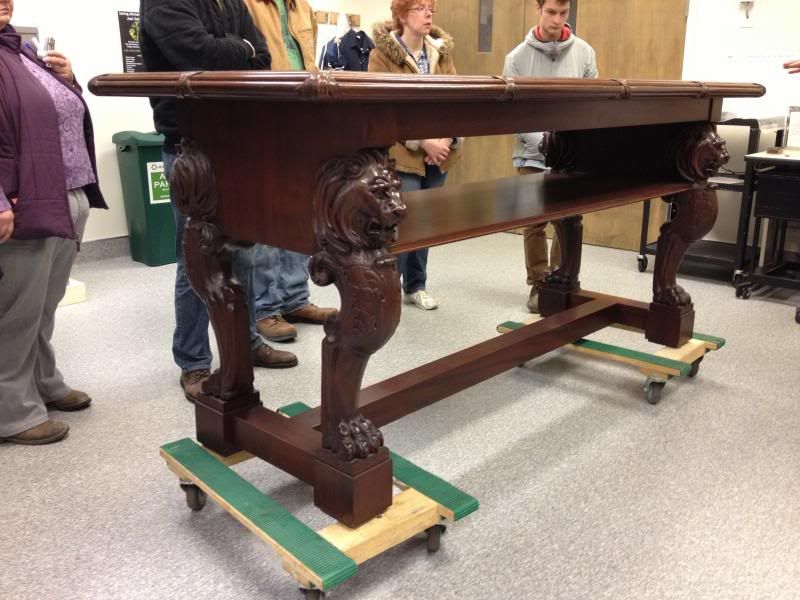 This is the testimony table from the Minnesota Supreme Court. It has been retired. It's in for some TLC before heading off to its new home. This lucky piece will actually go on to be used, rather than sitting eternally in the dark place.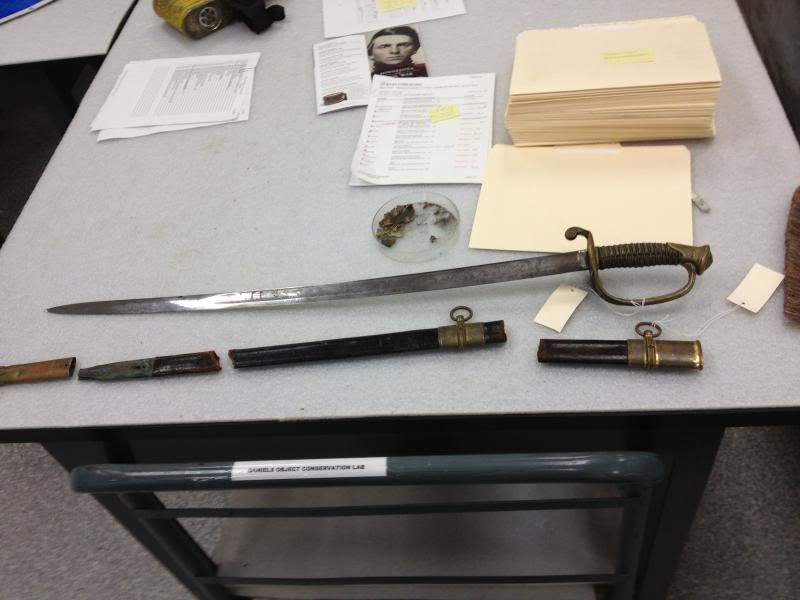 This is a genuine Cival War sword. It was especially cool to see this item just laying out on a table rather than sequestered in some glassy cube. My inner Zorro managed to keep his cool. But damned if he didn't want to snatch that thing up and swashbuckle for a minute.
En garde
!
The Objects Conservation Lab is where additions to the collection are observed and a condition report is prepared. Later, the condition report will guide conservation efforts on the item in question. Several projects were in transit in the lab. Tom filled us in on details of half a dozen objects including the testimony table from the Minnesota Supreme Court, a sword and pistol from the Civil War, and an autographed cleat from the Minnesota Kicks soccer team. Many thanks to Tom and the Minnesota Historical Society for opening their doors to us.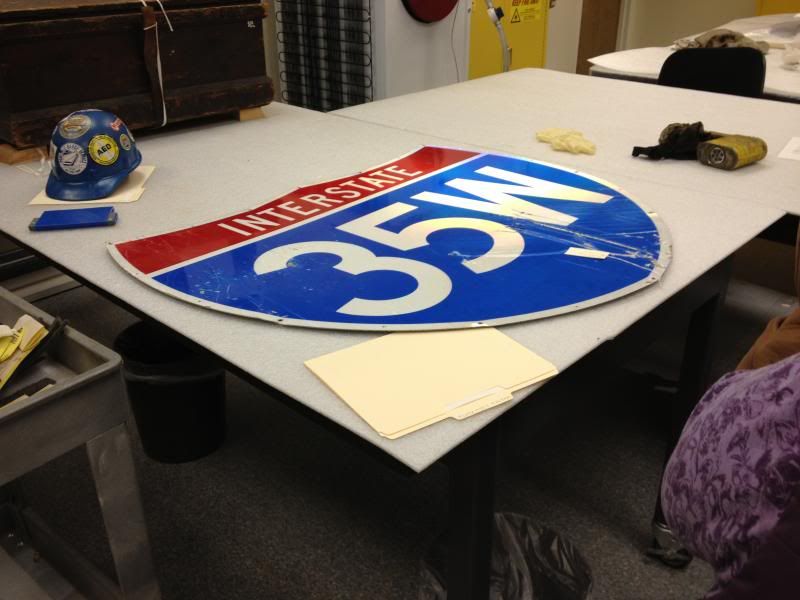 This one put a lump in my throat. From the bridge collapse of August 1, 2007.
The next museum we would visit would walk right into our classroom. The curated body of knowledge that resides in the mind of Don Williams is stupefying. Don was, until recently, employed as the head furniture conservator at the Smithsonian Institution and as far as I can tell, he has done it all. He really should take a whack at competing on Jeopardy. Given the time, I could write a entire book about Don but the information is already out there. His published works abound. You might search for the name
Donald C. Williams
with good results.
Don generously spent two days with us, blew our minds on multiple topics without missing a beat or a joke and it was a rare treat. Thank you, sir.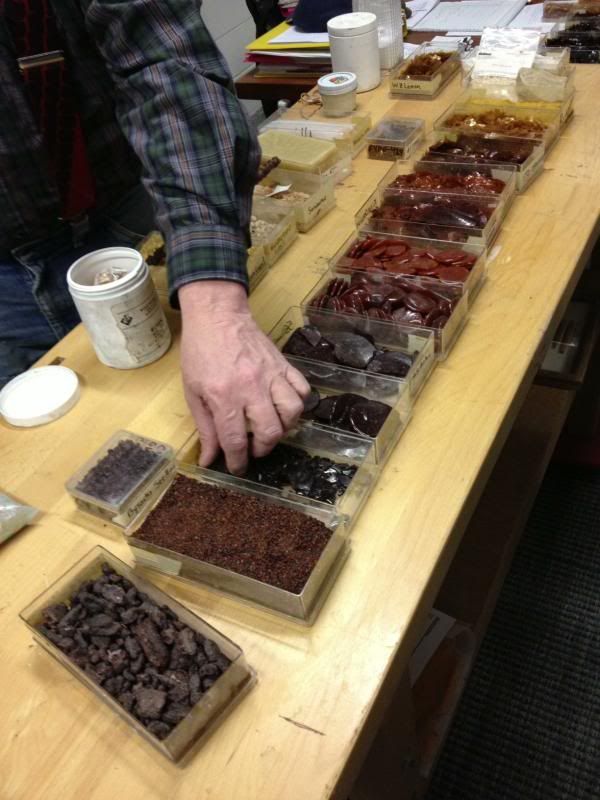 The mighty hand of Don Williams and a smattering of dry shellac forms. I'm on the lookout for some 2001 Kusmi #1 in which to swaddle my mando if any of ya'll are holding...
The rest of the school year looks like it will zip right by. We have a couple more distinguished guests scheduled to visit and then from there on in, it will be all about our final projects. Each of us will strip and completely refinish a dining table and chairs. We will each give the "whole enchilada" treatment to a rogue chair, utilizing all of the finishing techniques we have learned. Then, it's on to our elective pieces. I will be sprucing up my A2 mandolin from my last year at the Red Wing school and also my sweet little Koa ukelele. I think I feel a recording session coming on...
Have a great week everybody!