Besides the Big Finale of building guitars, we have other classes that bolster our skills and make us well rounded as troubleshooters and fixers of potentially bad guitar situations. Guitars are subjected to a fair amount of wear and tear. Especially those used by guitarists who perform live. The very act of playing a rock show with a guitar is equivalent to driving an automobile at great rates of speed through a winding canyon road into a demolition derby. It's parts and fine adjustments can deteriorate much quicker when a guitar is used to play live music. A good luthier can counteract these foibles or customize an instrument for a specific players style. And that is just what I am up to here in our Repairs class, fixing some issues with my blue guitar. I have shielded the pickup/control cavity using copper tape and adding solder at the seams. This will aid in keeping everything nice and hum-free next time I'm on a stage. Before and after shots of this procedure are followed by the doweling of a neck screw hole. The excess dowel has already been sawed off and this Friday I will drill a new hole.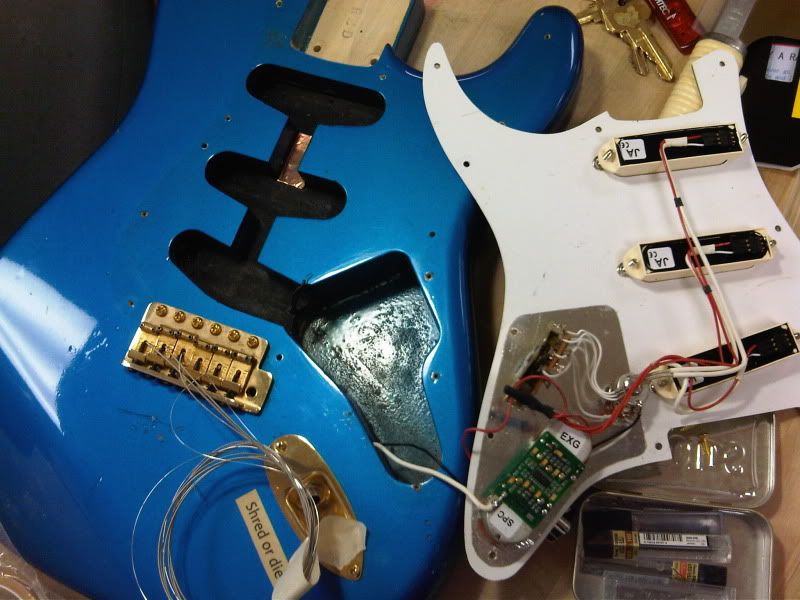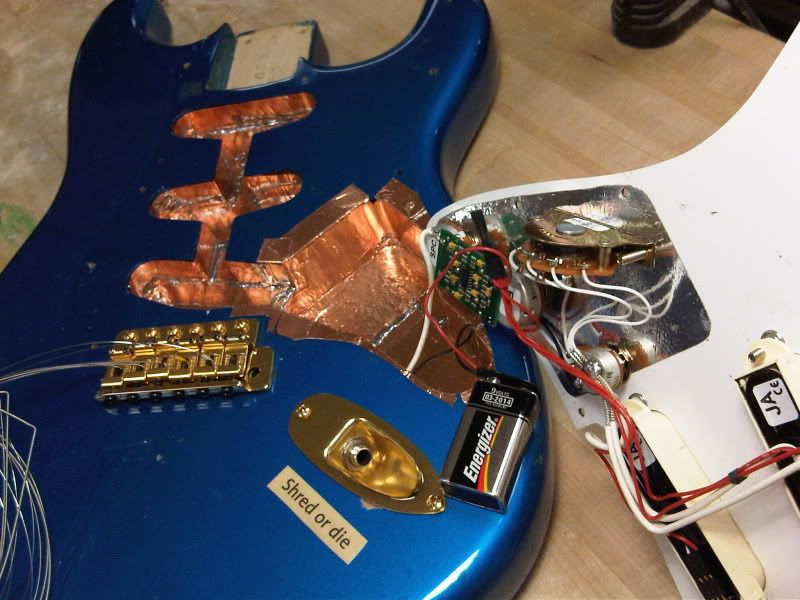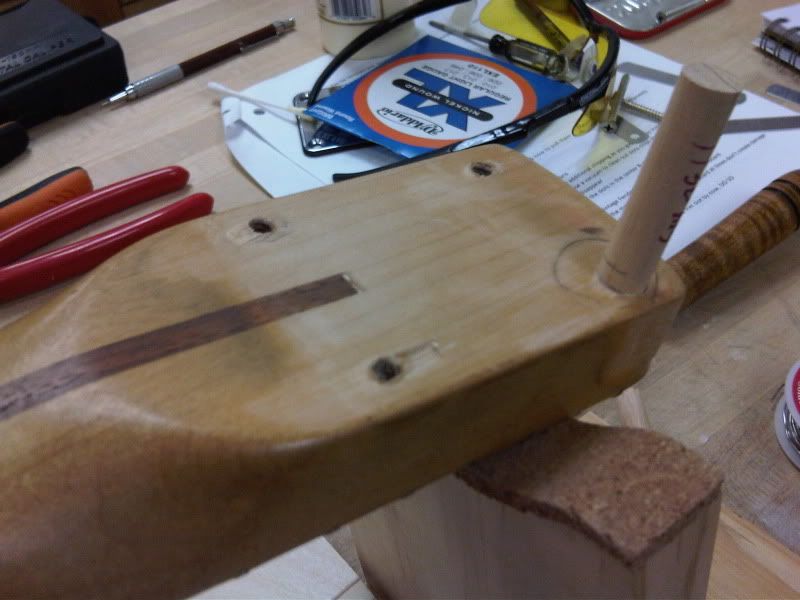 The same guitar is also getting a complete fret job. I am installing some stainless steel fret wire. I have heard mixed reviews about this stuff and I reckon I need to form my own opinion. So, in they go. I will let you know what I think. The stuff is already showing that it is more difficult to work than the usual nickel/silver variety of fret.
About that posting title up there. There are just three build days left. It will take three weeks for those days to pass which is an unusually cruel thing to have to endure. We will however, make it. Our observance of President's Day means no school next Monday and our schedule just becomes a little more drawn out. Slow as Christmas and I'm dying over here. Still, we progress. Today I put in the lovely Paua shell position markers, 2mm side dots and 6mm fingerboard dots. They look great in the pale blond of the maple. And the frets that I also installed today help round out the deal. I'm super geeked out over this thing right now.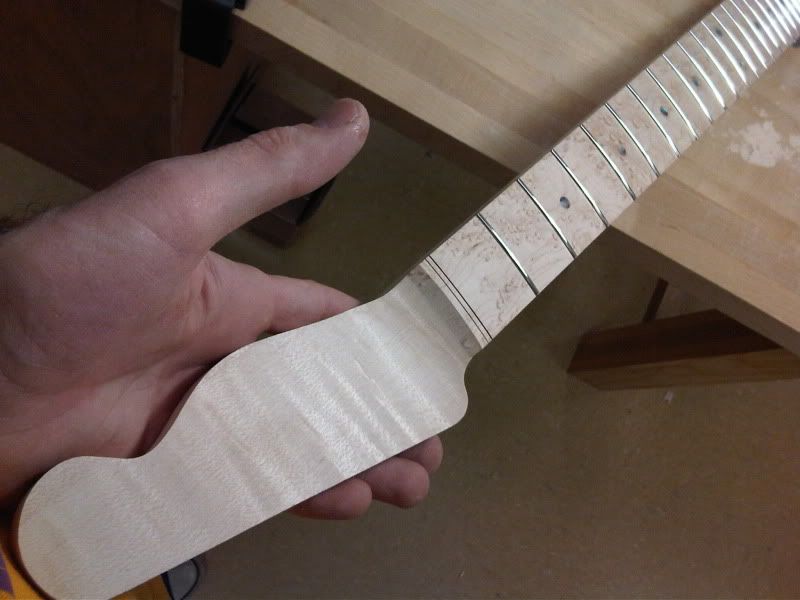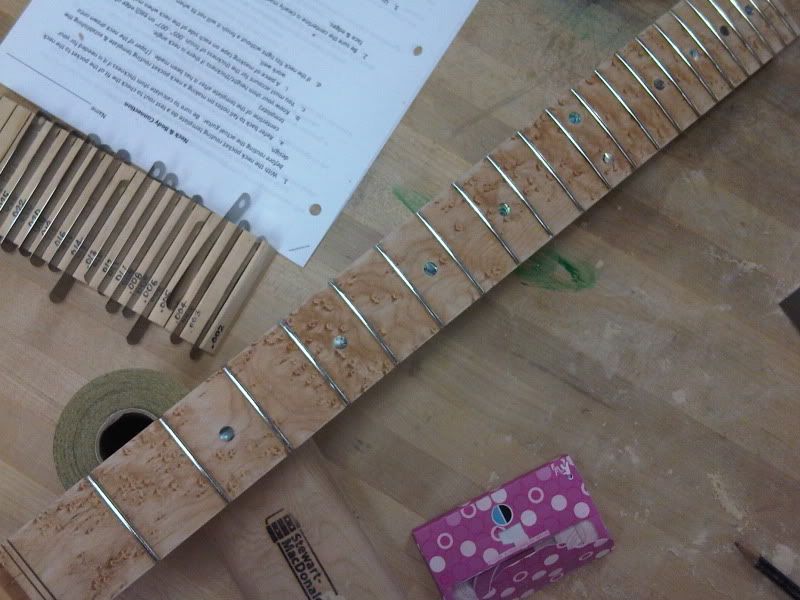 All we gotta do now is perfect the fret surfaces, install the tuning machines, hand carve the back of the neck (I'm extra pumped about this part), carve and install the nut and drill some screw holes. And spray the finish. Oh my, we've got a lot to do in 3 days. Speaking of finishes though, I was pretty settled on this guitar being stained a deep wine red. I worked up a prototype color and did a little finishing experiment on some scrap wood. It looks really good, but does not photograph well. Then, a few nights ago I had a very vivid dream and in it I learned that the guitar is supposed to be baby blue. So I started working that up and here is taste for you. This one is breezily photogenic.
This sample is going in the right direction but I'm seeing it a bit more intense with less of the creamy tone of the wood coming through the lighter areas. I'll figure it out later this week in our wood finishing class.
Tomorrow will be a big day. I will route out all of three pickup cavities and the control cavity. Also, the neck pocket will get routed and have screw holes drilled through it. I may even bolt the thing together and get my bridge installed. Holy cats!