I'll get the ball rolling today by sharing a bucketful of gratitude. This cheerfully carried load is borne for you, my readers and friends. In the past few months, this little PBJ sandwich of a blog has fed folks in Canada, Germany, Singapore, Russia, Ireland, UK and of course, US and A. That is pretty neat to me! So, my thanks to all. Please take a second if you would and forward the updates to your friends. In the not too distant future, I will need to feed myself by doing this work and let's face it, planning to buy new guitars is fun. Try it, you'll like it. To whet your appetite, here is what the headstock of my first acoustic build will look like.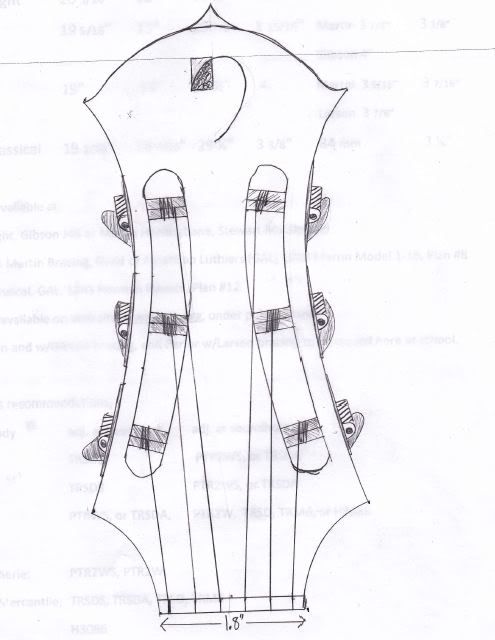 I'll mark the date 5 December 2010 as the first night
this
guitar kept me up into the wee hours.
After I completed my neck reset assignments, I moved on to carving the wonderful compensated saddle and performing bridge copies. The former takes a lot of squinting and the latter takes the cake. Honestly, I'm ready to move on. Here they are, the compensated saddle and the bridge copy!
Everything is hand carved, la la la. Sure, we use power tools to cut stuff and to square boards and such, but if a part looks sculpted, it was done by hand using sandpaper and knives of one kind or another.
The caliper isn't there just for looks. The tolerance on these puppies is 0.020", so we sand and check and scrape and check, sand a little more and so on. The number 0.020" doesn't mean that you can phone it in, it means if you are that far off, your work is not of sufficient quality to be graded. Start again and slow it down-nah before I take a switch to ya.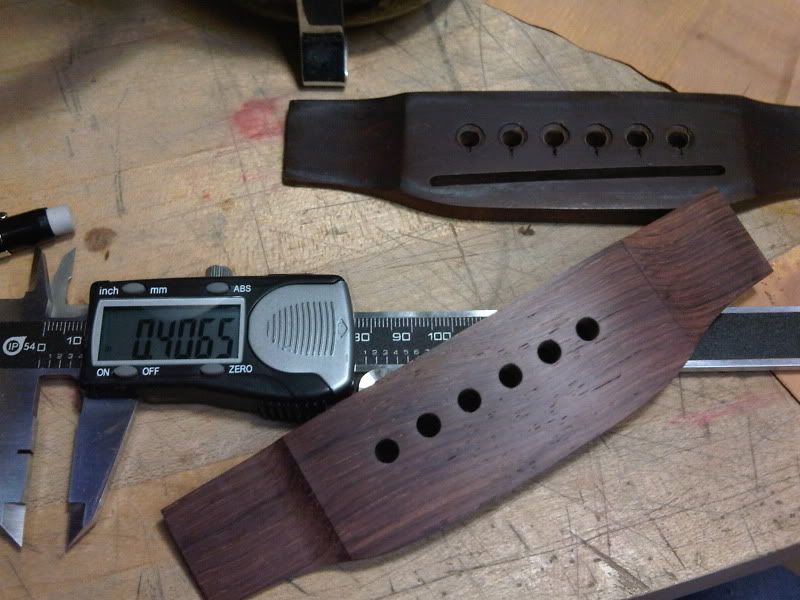 The darker example is the original piece. My copy is missing the saddle slot. For the last bridge making assignment, we have to create a piece strictly from a technical drawing and without having been told how to accomplish the required angles. One fellow has come in ahead of the pack with a gorgeous pyramid-style bridge that was practically flawless. It's reassuring to see that it can be done to perfection by a diligent novice. Nice work, Doug.
Well, the design phase is passing. Our classroom receives a steady supply of shipping boxes stuffed with fine quality woods and early Christmas fun. Soon we'll take a break, required for sanity's sake and when we step back into our workspace, it will be to make guitars. Excellent.