For the most part, this blog has focused on my education experiences at MSC-Southeast Tech in Red Wing and the results of the work I've performed in the classroom. For this installment, I would like to turn the spotlight on my mates. Let's have a look at some of their great work.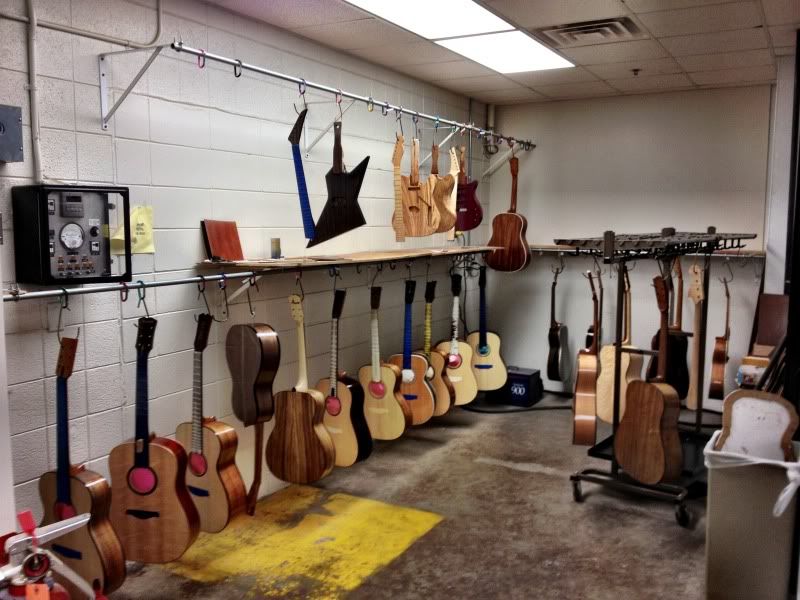 Towards the end of the school year, our finishing area and spray booth fill up with this wonderful sight. Handmade guitars everywhere! The finishing process for one instrument can take just a couple of days to complete or up to several weeks, depending on the choices made.
Phil Kirst made three really cool instruments this year. A wee ukelele, a Joe Satriani-type electric and an A-style mando. Here's Phil and his sweet little mando.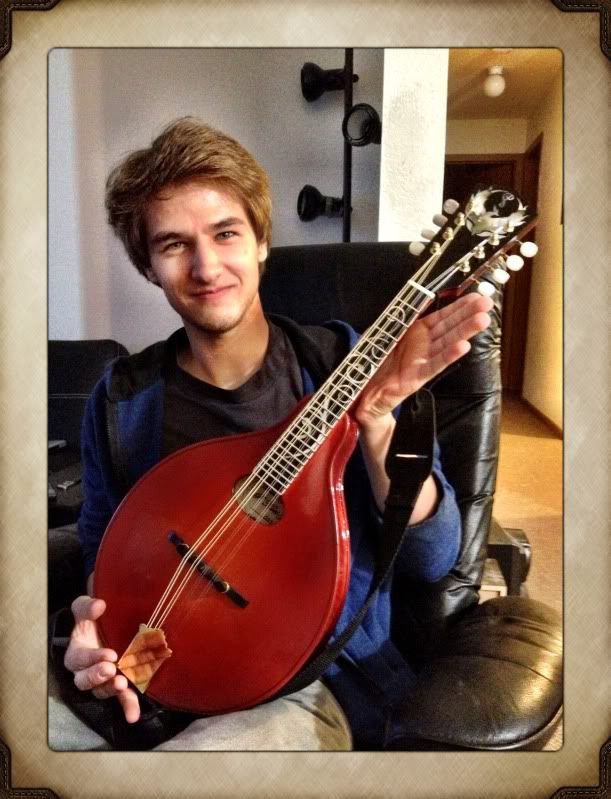 Phil did a beautiful job on his finish and was the first of us to get strung up. I was truly impressed by the sound of his instrument. And also, very excited by it because I knew mine would sound pretty similar as we built from the same blueprint and both used Adirondack Spruce for our soundboards.
Here's my buddy Andy Fulton with his lovely A2. His fetching, hand-rubbed sunburst is a real eye-catcher. Andy is a pretty laid back fellow and over time, we found some common interests and shared a certain insight. We both wished we had connected as friends in our first year of school in Red Wing. Better late than never.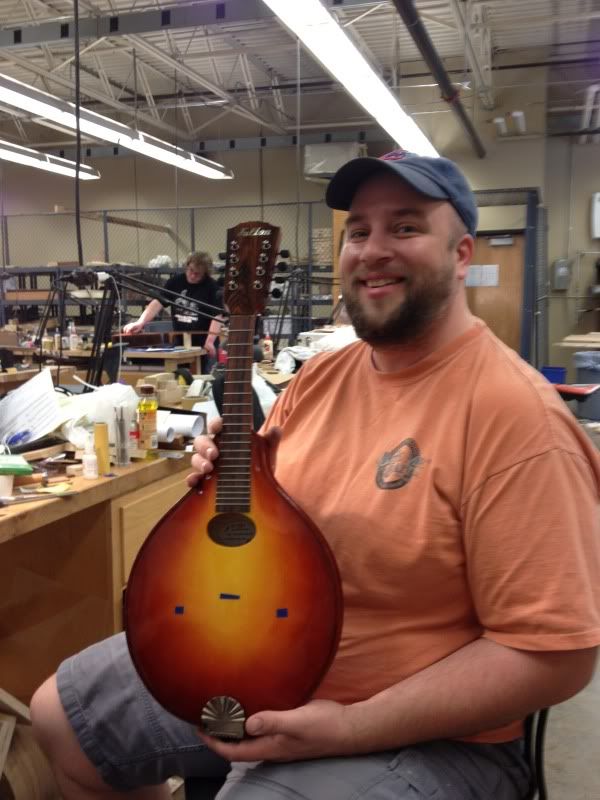 I didn't get to play Andy's mandolin. Or his super cool blue and chrome Thunderbird bass for that matter. Maybe we'll get together soon to share some war stories and do some pickin'.
Mr. Nate Marcy blew me away with his tasteful instinct for inlay work. Nate built a striking Benedetto-style jazz box in the arch top class and this comely F-style mandolin for his CNC build.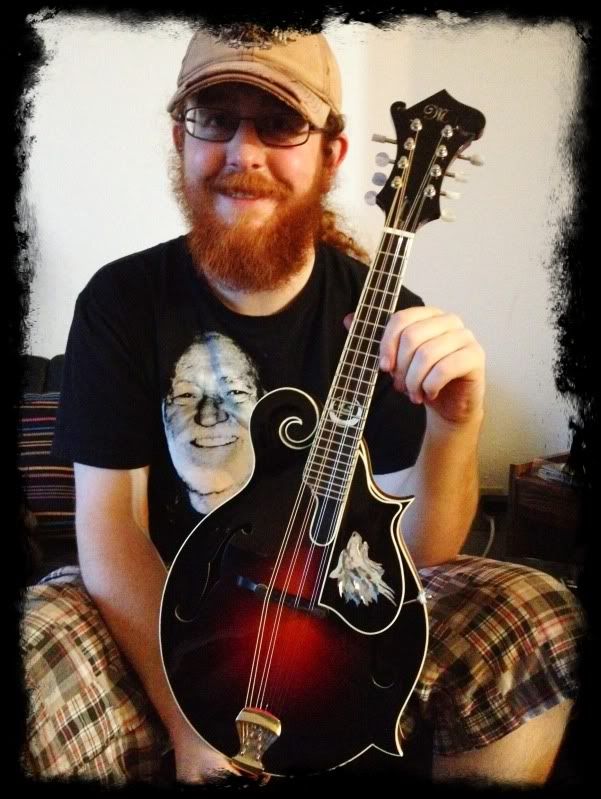 CNC stands for computer numeric control. This is basically a robotic router that will do whatever you tell it, right or wrong. After mapping all of the 3-D contours into the program, the router takes over and renders your drawing in wood. This class is part of the guitar production program at Southeast Tech.
My pal Dave Helmer built this gorgeous Dreadnought guitar. The hypnotic top is a piece of Redwood with
huge
flame and the back is made from figured walnut that Dave found at the lumberyard!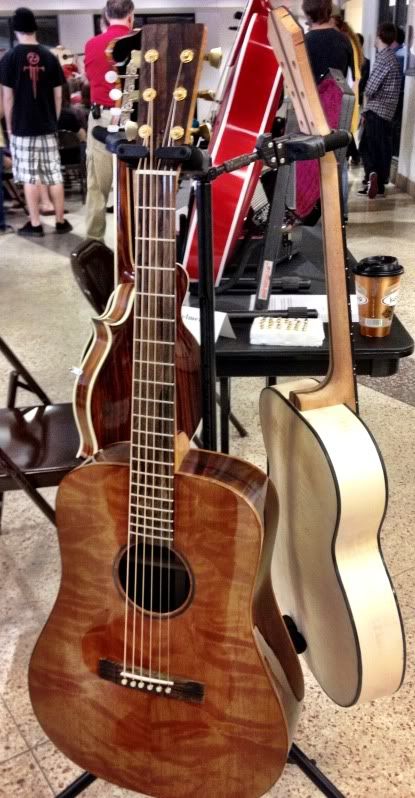 Dave and his cool lady friend Sam were kind enough to put me up in their home during the last few days of class and saved me from many extra hours of drive time that I was not interested in doing. They are both talented musicians and fine, friendly folks too.
One of the greatest things about the second year of the school program is that you are pretty much in
anything goes
territory. Because we already have a good foundation, we can move on to designing our own projects. Luke Kenning created this monster of metal, starting with a just drawing and an idea and finishing with a long-scale, neck-through body axe that is made for just one thing. It ain't jazz.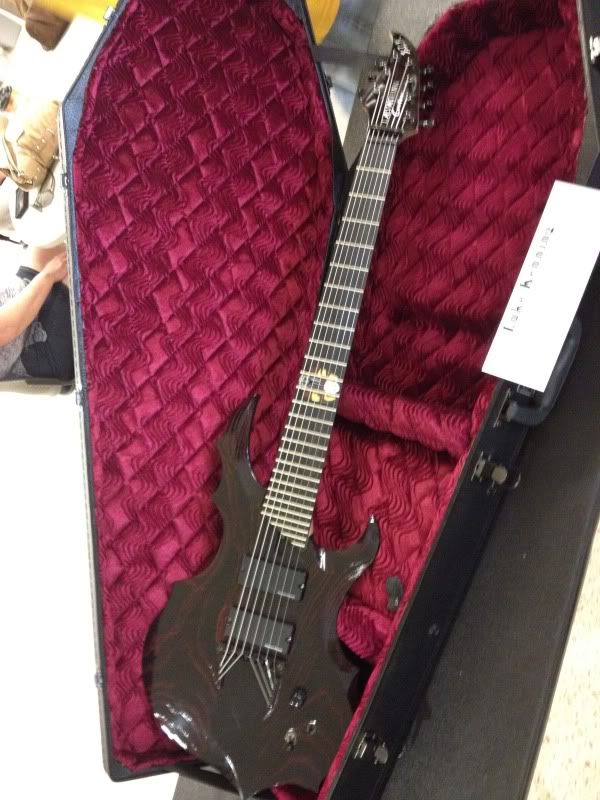 Ben Williams is a man of few words and many talents. This pair of peaches is what just got Ben a job building arched top instruments up in Montana. For a hiring manager in the instrument making business, the proof is in the pudding and these very clean builds make up one very big, very tasty bowl full. Congratulations Ben!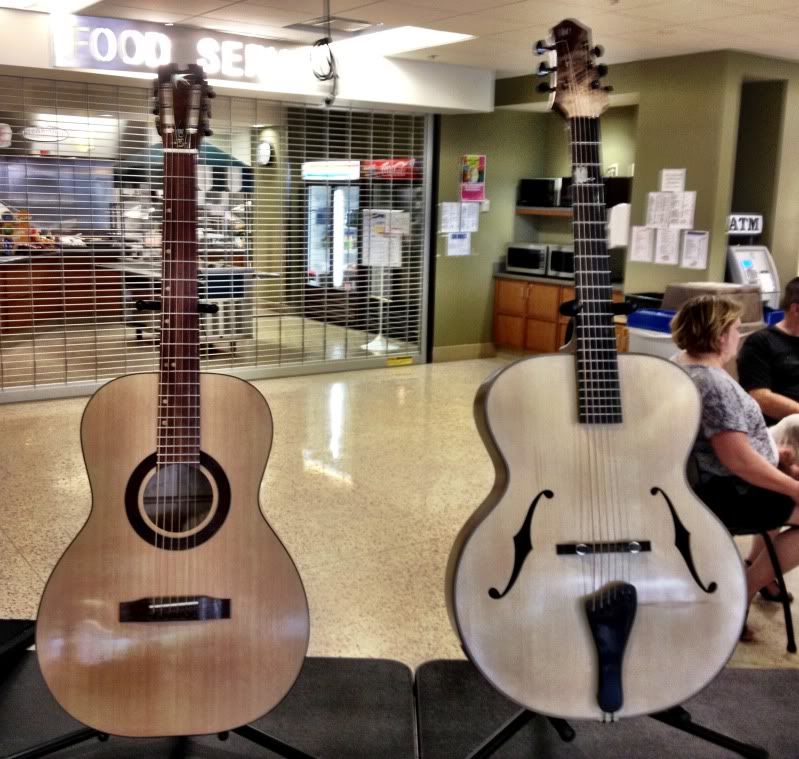 This snow-white lefty was built by Ryan Welch. Ryan was the only southpaw in our class. This seems like a uniquely tough challenge to overcome. All of our resources depict instruments made for right-handed folks. Our curriculum, blueprints and teacher are constantly encouraging, either subtly or overtly, right-handed builds. Ryan did a great job of keeping things straight and even managed to source a one-of-a-kind left-handed pickup for his electric build.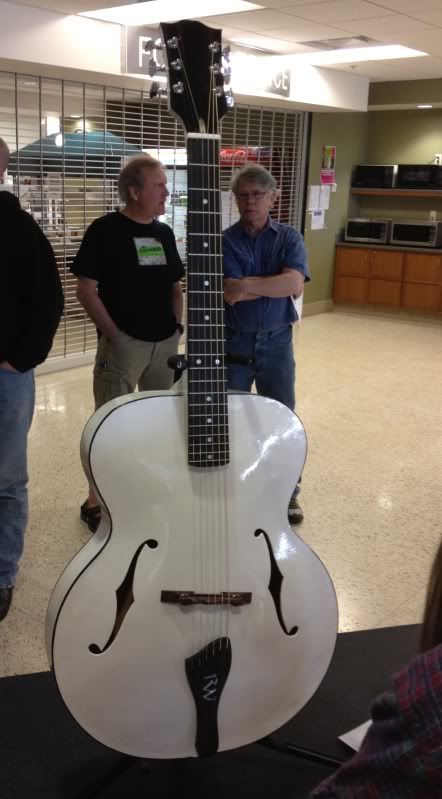 Every guitar class in the world should have a kid in it named Robert Johnson. Being the youngest, and perhaps brightest builder in our group, our Robert Johnson found himself on the receiving end of a lot of ribbing. His youthful ways and general lack of acquired life experience gave many of us in the class pause. At the same time, these traits inform Robert's building and helped him create what one visitor to our guitar show called "her favorite one". I won't be a bit surprised to see his future guitars in magazines or on the stages of the world.
This is Robert's Maccaferri-inpired build. This type of guitar was made famous by jazz virtuoso Django Reinhardt back in the 1930's. The maker took his influences, added numerous personal touches including a unique interior bracing system and produced a very cool eye-catching instrument. A true success. Good luck, Rob!
David Lemons decided to exceed the challenges of building an average 6-string acoustic. He selected an 8-string baritone with lots of inlay, multiple purflings and binding all around. He took inspiration from a similar Taylor model and ran with it, creating a build that is exciting to see and hear. Great work D.D.!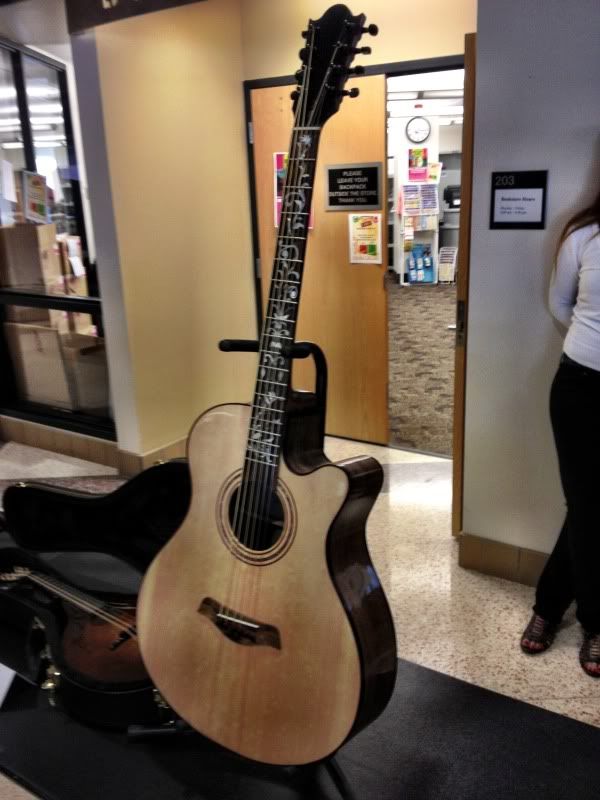 Mr. Tim Boyson set the pace in our arched top building class. He took an early lead and maintained it from start to finish. As the point man, he was always doing everything first. This left him to work without the benefit of seeing a process performed multiple times before actually having to do it. Tim built a great looking A-style mando and he also built this...
This incredible fretless bass incorporates numerous design elements taken straight from the Cremona builders' handbook. F-holes, the scrolled headstock and the lack of frets all tip the hat to the classic instruments of a stringed quartet. This axe puts the C in
Custom
and really demonstrates what you can achieve by letting the world be your inspiration.
I owe all of these men a debt of gratitude for being a part of my experience at Southeast Tech. I have learned something important from every one of them. And as a guitar player, I feel confident that they will help provide the world at large with a healthy supply of well made, great sounding stringed instruments. Bravo!
Readers, if you wish to commission any of these builders to create your special instrument, contact me at www.lowstrungguitars.com and I will put you in touch with them. Thanks for reading.