There exists a funny little word,
vagitus.
Loosely, a new-born child's cry. I heard these sounds just a few days ago as I plugged in my first finished instrument, entirely handmade and taking as long to create as a human child. The actual building process took only 14 days, but the skills needed to produced my progeny were acquired over the course of 9 grueling months.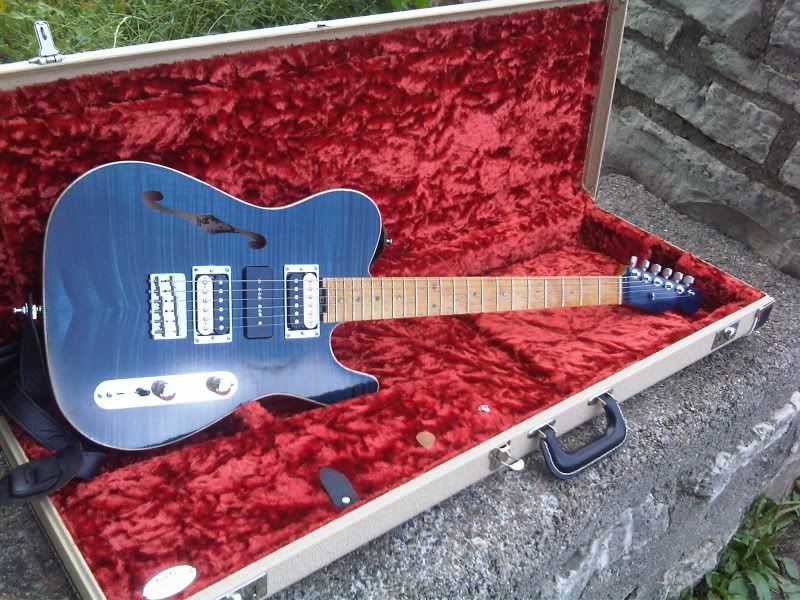 It's really a strange beautiful experience for me to hold this guitar. It was conceived in my head before the first sketch, before the first saw cut was made. It has kept me awake at night. It kept me inspired to toil through 65 hour work weeks. It left me no alternative but to confront my inner being and find out, in so many ways just what, exactly, I am made of. The instructional course is called Guitar Building and Repair, but the lessons I learned were just as much about me, my inherent strengths and weaknesses.
Besides the valuable side effects of this undertaking, I built an amazing guitar! It is really as beautiful as any instrument I have ever seen. Unplugged, her tone is snappy but resonant with a lovely openness in the high-end frequencies. This is aided by the trio of cavity routes that exist within the body. Plugged in, this guitar sports an embarrassment of riches. This is owed partially to the snug coupling at the neck-body joint, and the fine quality tonewoods used throughout. However, the core components of her sweet voice are the Lollar pickups.
Lollar
is based in Vashon, WA, an island off of Seattle. Before I heard one peep from my pickups, I was blown away by this company. Their dedication to customer service is obvious. They went so far as to custom wind and match a set of pickups for me, no extra charge. When I read the roster of world-class guitarists and builders that choose to use Lollar, I felt pretty well cared for. Thanks to Greg, Jason and Mr. Lead Engineer for the special handling. In the next available moments, I will create a dedicated page for my tele build and it will list all of the specifications for the guitar.
And finally, some great news this week. I have accepted my first commission to build. During school, I made a friend who has an equipped shop that I am able to co-op. This saves me some great logistical heartache. The list of power tools needed to do this kind of work is not long but it is important, and costly to acquire. The upshot of this is that I am available to build and already started on the first custom design. I will make an announcement when the Orders page has been updated to reflect my current arrangement.