...so give me just a second to get down to business. It's probably best to start by giving thanks. There are a bunch of folks who have been, ahem, instrumental in helping me get this happening. Mike, Nancy, Barbara, Ron, Nina, Gordon, Gene, Dorothy and Rachel, you have all made your own direct contribution to my being in this time and place. Thank you. Many others have helped in big and small ways (corepower!) and I thank you too.
We are finishing putting immaculate edges on a grand array of cutting tools. We have been acquainted with and tested on a wood-shop full of wild, man-eating mechan-o-beasts. A few proficiency projects more and one safety test, then this is where I'll be spending most of my time.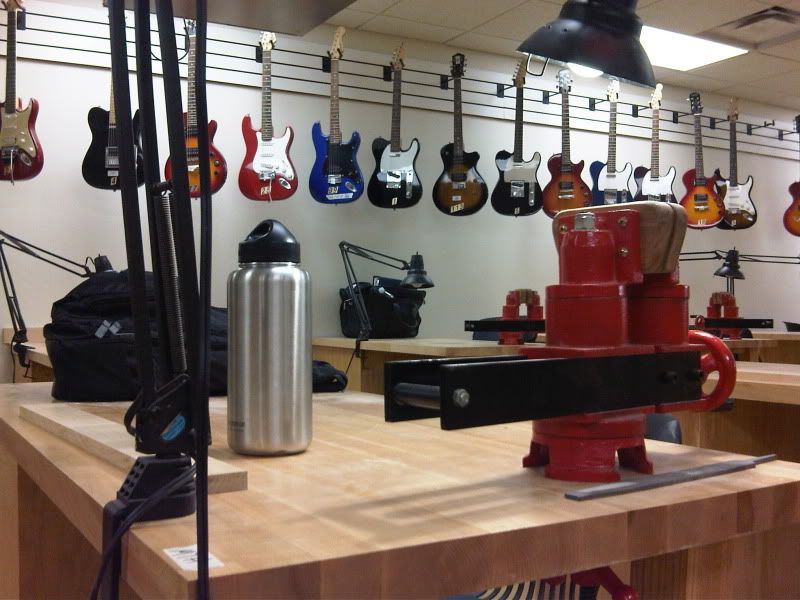 My work bench. All those guitars hanging on the wall are sick. We have to diagnose their ills, learn to correct them all, and create billing for the work. There are a grip of acoustic gitboxes in the same boat and we will treat them with great care too. After that, we build guitars out of blocks of wood, bone and sinewy steel.
I had a fun and sunny weekend. I cooked for the first time in weeks. I kissed a girl. We are all alive! Thank you.