Happy new year to all of you folks out there. The holiday season was a bit on the hectic side for me. The three weeks preceding Christmas saw me holed up in my shop/apartment putting some final touches on my first instrument built for a customer. In many ways, this guitar is a prototype, as it is completely custom designed. Building a Strat or Tele or other tried and true instrument is sorta like cooking from a recipe found in a magazine. All of the hard stuff has already been done before. Just follow the instructions and everything is likely to turn out fine. This guitar is a one-of-a-kind dish, made just for my friend Dave. I hope he finds it to be as tasty and compelling as I do.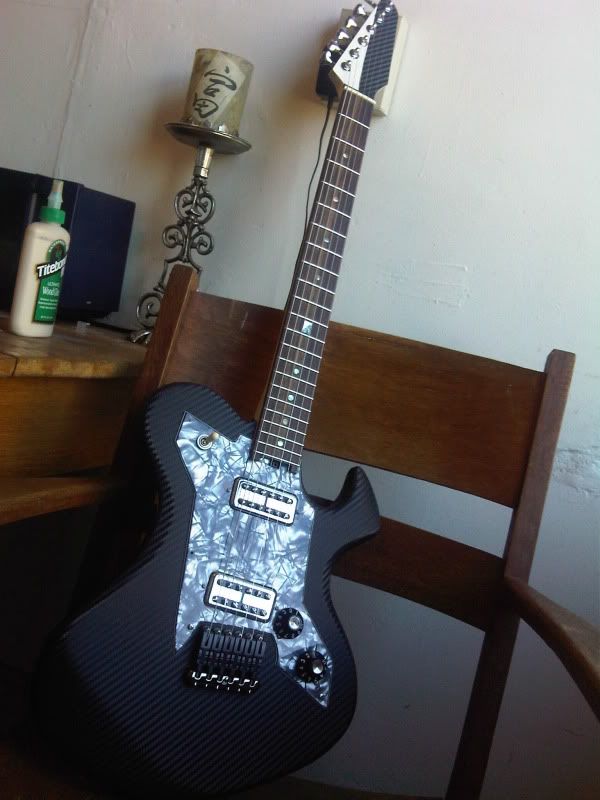 I just realized that it has been a couple of months since my last post. The lab time has been spent exclusively on arching the top and back plates for my mandolin. Arching is an exacting process. It is diametrically opposed to the Ike and Tina approach of starting nice and easy, and finishing
rough.
In the arching process we start rough. We use a scrub plane to remove the square edges around the oval-shaped plates. It doesn't have to look pretty and the work goes quickly.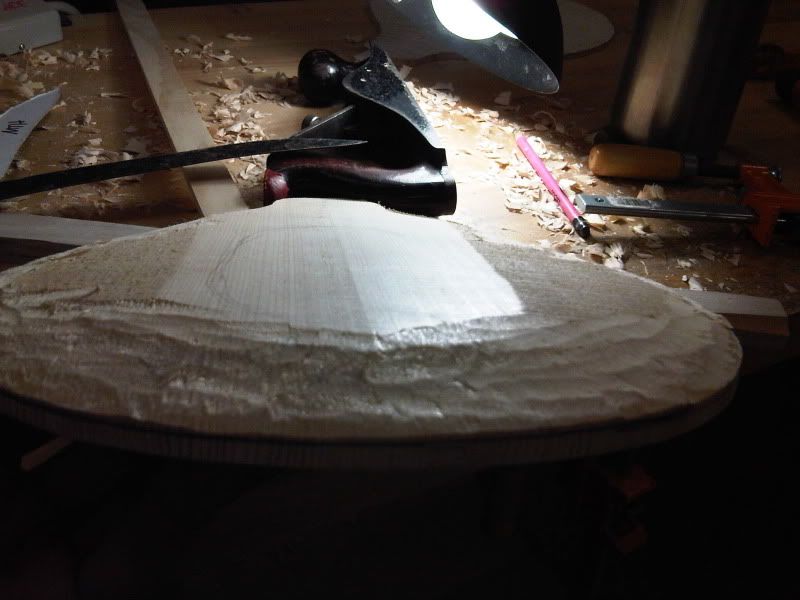 The second rough arching uses tools that are a bit more precise. An arching gouge a.k.a. incannel gouge is basically a scoop with a very sharp inside edge. A scooping motion is used, working across the grain of the wood, to selectively remove material from the edges of the plate. Gradually, you progress into the interior area of the plate, creating a slight, upward rising hill that approaches a plateau. This area is "hands off" for the time being.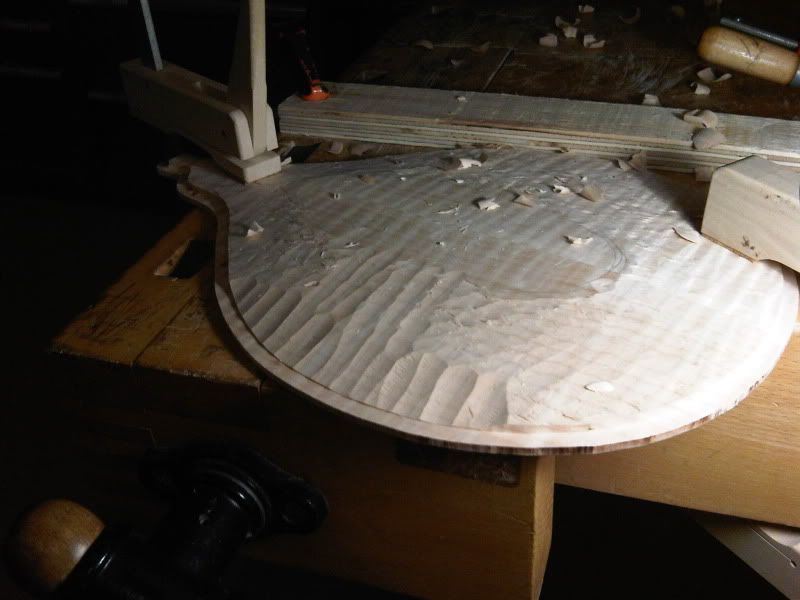 The arching gouge and a proper incannel gouge are shown along with the back plate of the mandolin.
And so it goes. When the end of the class period arrives during the rough arching process, there is always huge piles of wood chips on the floor. The type of stuff you could let your livestock make a bed in. As we toil through the process, the piles become smaller and the shavings become thinner. The picky work uses finer, more precise tools and becomes less forgiving. While we use a blueprint and templates taken from an actual instrument, there is nothing like having the real thing in your hands to drive home the point that we are crafting a true work of art. Our maestro, John Reed, thoughtfully carried in the first mando he built with this system so we could have that experience. Here is another maestro, Mr. Jimmy Page, getting down on the same model instrument that I am building now. I can't wait to find a river bank to sit on and do my own getting down. Thanks for reading.