I have an early-bird weather forecaster right outside my kitchen window. It has only one move. That is, to let you know that winter might be on the way. The only thing is... Oh did I mention that It happens to be a tree? No? Ok. My tree is sorta like those fainting goats. The slightest twitch around one of those scarey cats will lay it right out, flat on the ground. Well... my tree. You even mention the incumbent autumn season around this thing and in a golden flash it drops every leaf. It's been a couple of weeks since summers' rags were thrown down. This makes me happy. I cook more this time of year, and the food! Soups! Bread! Roasted Chickens! Brussels sprouts. I'm crazy about it. Thanks go out to the cooks who have had any hand in developing my own. You know who you are! Come over and eat!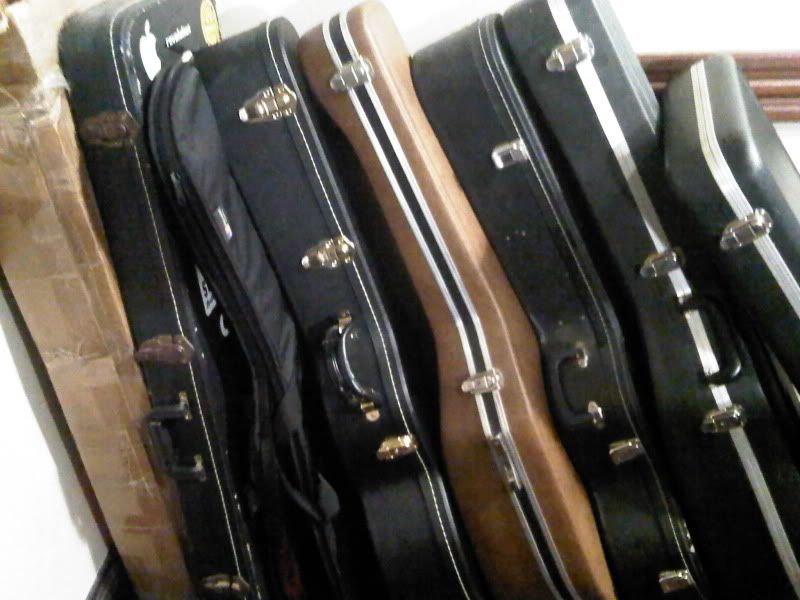 There is lots going on right now. I'd love to stop and take a nap but I've got a baker's dozen lined up on my to-do list. My favorite recent progress is the moment my website went live this week. The
Lowstrung Guitars website
would not exist without the patient help of Jodie Tanaka, Paul Bryan and Mike O'Connor.
Jodie
brought my logo design to life, tidy and fast. Paul and Mike operate
Gogiro Minneapolis
. Their web designers took the bits and pieces and put it all together. Engage them if you need this sort of service and like what you see. I sure do.
School is chugging right along. We are in the middle of arching our backs and tops. It's sorta like carving a turtle shell. There is a bell shaped exterior and a matching negative space inside. By the end of a class session, there are piles of wood chips and shavings curling up everywhere. We're getting ahead of the game though. When I left off last, I was just about to glue the ribs to the end blocks. This connects four pieces of wood into one joined unit. It's like putting up the walls of a house, sorta. The ribs have to be cut to the exact right length and squared to fit well without any overlapping. We create clamping cauls that mimic the shape of certain contours of the sides and blocks. This will contribute to achieving gap-free seams. They also provide proper clamping surfaces and protect the fragile wood. Good gluing makes the instrument stronger and contributes to clear, loud tone. You want to hear good tone, don't you?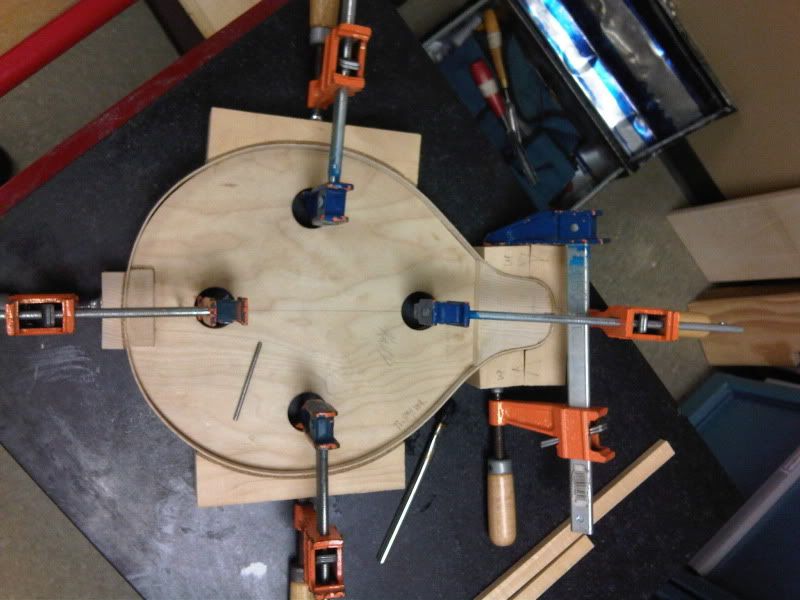 The cauls and the design of the mold are well thought out. That makes getting the clamps into the right spots really easy. The open time for hide glue is a short 30 seconds. If you aren't clamped at that point, it's best to start over. We heat the gluing surface with a hair dryer in order to give us a little more time. You still have to move fast though.
We have created a lop-sided hoop with wooden blocks at either end, and it's all wrapped around the mold. Installing the kerfing comes next. Kerfing is a thin strip of wood that gives us a greater surface area to glue the top and back to the sides. The word refers to the width of the space left as a saw blade cuts into a piece of material. This piece of wood has a "kerf" cut into it every 3/16 of an inch. The result is a serpentine strip that is easily bent. Then, again with the hide glue, we affix the kerfing to the inside edges of the ribs. Just one side for starters but eventually, both.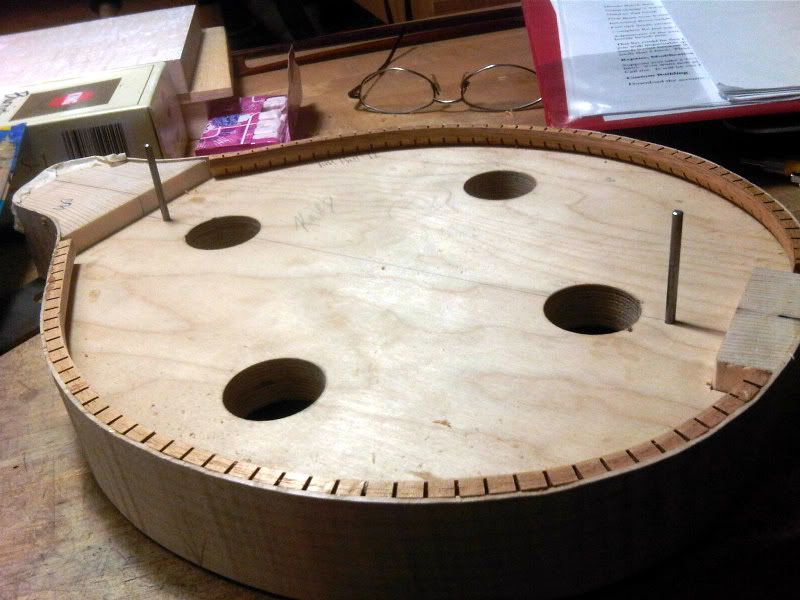 We are mid-term right now and that means 25 percent complete on this instrument. Doesn't look like much yet, does it? Don't fret. I've seen the finished results of this recipe. It really works!
First things first though. Tonight's supper is almost ready...